Sunday, September 6
We officially began the day with breakfast at the Original Pancake House. It's a chain, so I'm not sure it was the original Original, but people like it enough to stand in a line that flows outside. We got in quickly after the hostess asked if there was a group of four and Phil told her we had three.
I think wealthy people tend to be askers rather than guessers (and more specifically, askers who expect to receive yes answers to all requests). We can all learn from this. What is there to lose by expecting to get what you want? Is disappointment that bad of an emotion?
I expected to get crepes I wanted at the Pancake House. I got crepes I only kind of wanted instead. Too much sour cream when I didn't really need any at all. I was disappointed. But it wasn't that bad. I got to eat some of Andy's and Phil's breakfasts to make up for it.
Andy got something more interesting and better-tasting called the Dutch Baby: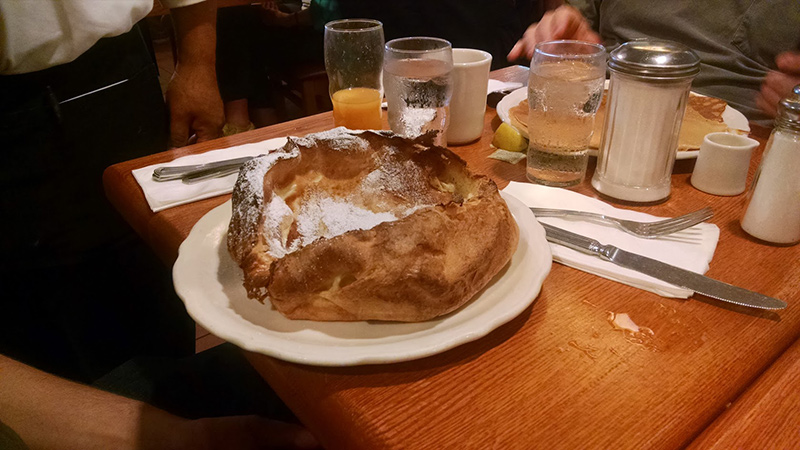 Conversation was good, but I was preoccupied with the realization that this was the end of the Andy leg. It felt like the training wheels were coming off, and I was a little at sea.
I drove Andy to the airport. I felt sad, apprehensive, excited. We said goodbye. I cried a bit. After he left I pulled into a cell phone lot—it amuses me that they're called "cell phone lots"—and got my bearings. Off to Wisconsin.
The day was brutally hot. I pulled in to a rest stop somewhere in Illinois to deal with all the coffee I'd had at breakfast. It looked '80s on the outside, outdated and ignored, and '00s on the inside, significantly better than NJ turnpike stops. I almost bought food there even though I wasn't hungry. Google Maps started talking to me when I was in the bathroom stall and I felt a little embarrassed. Everyone can relate to this, right?
When I crossed into Wisconsin, Andy, who was still waiting for his flight, texted me a welcome message. (I've hooked him up with the GPS app we use on the bike trip to keep track of my whereabouts. It's reassuring to know that he's checking it often.) My phone read the text to me in its lady robot voice. I tried to dictate a reply text but the lady robot couldn't hear my message and kept signing off.
The drive was quick and highwayful, the only highlight being a sudden toll station that wanted 90 cents from me in exact change. I had it. I find it very satisfying to use nickels.
I got to Milwaukee and checked into the Hilton. I'd been planning to do laundry, but they didn't have laundry service on Sundays. It was a relief to have one less thing on my list. I opened a beer and sat down to deal with various administrative and work tasks.
After putting out a handful of small work fires, I walked down to the Miller Time Pub and Grill for dinner. While I waited for my meal I wrote questions for Becca, my next guest:
There's nothing else to report. I pretty much missed Milwaukee, aside from the Miller Time burger. From what I could tell from driving around it for ten minutes, it's a small city doing okay.
Also, I learned of a new-to-me brewery called Deschutes, based in Oregon. My first encounter with it was in Ohio, and it's been a constant since then. It's got a solid roster.
Hotel Art of the Day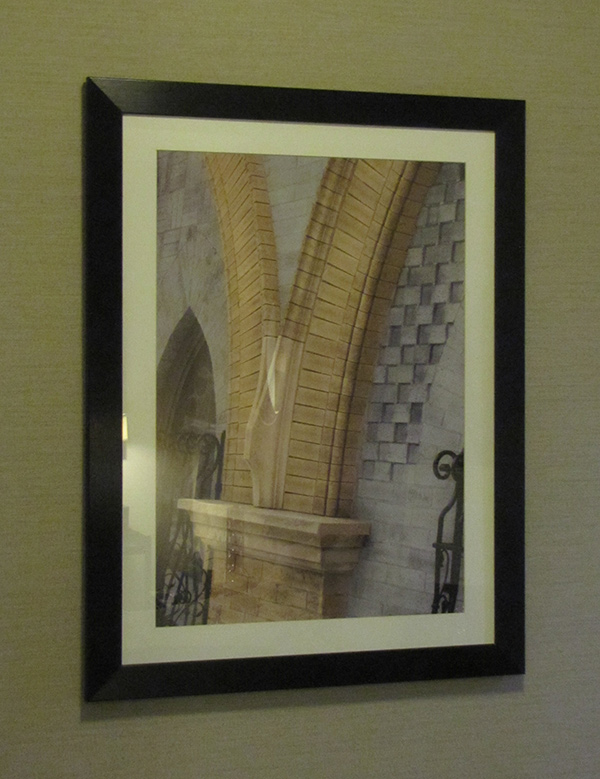 Architectural detail
Photograph, ~18″ x 24″
Hilton Hotel, Milwaukee
Hotel Art Score
4/10. Sorry about the glare, but I think you get the idea. This is super lazy. With even slightly more thought it could have been more interesting. It's like a bad wedding photographer's version of photojournalism. Everything feels overwrought and a little off—the angle, the crop, the colors.
This was one of a series of three, and the other two were equally ill executed. But maybe I'm being too cranky about this; it seems like the hotel commissioned imagery of Milwaukee (at least another photo had the word "BREWHOUSE" in it), and I applaud that.
Art Art Score
2/10. It's just amateur in every way. There's no vision here, just hopeful anxiety. I guess I can't really separate it from its partners. This is the best one.
Fine, I'll show you the others.