Monday, September 21
I would have liked to linger in Belton Chalet for as long as it would let me, but I'd reserved a spot on a nine o'clock Red Bus Tour of the west side of the park. Though in my sickish state I cared more about sleep than sightseeing, I felt embarrassed at the thought that I might have driven all the way up to Glacier, stayed for two days, and never entered the park. So I would enter the park.
The summery Sunday had become a damp and chilly Monday to mock me for my earlier laziness. I arrived at the park just before the welcome booths opened. Ever ethical and patriotic, I pulled over to the self-service entry, dug my checkbook out of a bag in my trunk, and filled out the envelope telling the National Park Service where I was from and how long I'd be there and what my favorite animals are. By the time I was done the booths were open and cars were zipping by me.
I parked in the lot next to the Village Inn at Apgar, which was built in 1956 and continues to look like 1956. It was already closed for the season, forlorn. I thought I'd like to return and somehow stay in both Belton Chalet and the Village Inn at the same time.
Signs in the parking lot seemed to indicate where the tour bus would stop, but there was no bus, and no one else was waiting. A four-hour bus ride along foggy cliffs suddenly began to seem like a questionable idea. I started to hope that the tour had been canceled. I'd wait 15 minutes and then leave, I decided.
There was a gift shop, so I went in and almost bought socks for family members.
Outside, a few minutes later, an older couple (60s, naturally, and pleasant) stood in the lot, looking confused. They asked me if this was where the bus stopped. I told them I thought so. The woman and I chatted about our travels. She seemed very vanilla midwestern at first, but it turned out she and her husband had founded and run a summer camp for many years and had recently retired.
Here's my idea for a summer camp: Every summer there'd be a new mystery to solve, set around a theme, like time travel or Antarctica or the deep sea. It would essentially be a weeks-long puzzle hunt (similar to the MIT Mystery Hunt that Andy does every year). All of the different age levels would be given clues exclusively for them, and to solve the mystery all of the clues would need to be combined. This way it wouldn't be a competition, but a collective effort. There would also be standard camp activities like swimming and archery and arts and crafts. And there'd be a dramatic element to it, like those dumb dinner theater murder parties. Except this wouldn't be dumb. It would be cool, guys. Let me know if you want to open this camp with me.
Finally a long red bus pulled up. A dapper, charismatic-looking man with icy white hair and a bowtie got out and greeted us. "This looks promising," I thought. But he wasn't our driver; our driver had been delayed, he told us, and would be there in a few minutes. People stared at us through the bus windows. The man got back in and drove off.
Our own long red bus arrived some minutes later as promised, mostly full already. Our driver was a fiftyish man in a newsboy cap who slightly resembled Fisher Stevens. He greeted the camp-owning couple and then turned to me. While we shook hands he broke eye contact to check me out, looking my body up and down. I froze. I felt both violated and surprised to feel violated. Sometimes in the city I am catcalled; it's a New York fact of life. I am lucky never to have been genuinely threatened by anyone, and my response is generally some combination of amused, flattered, and annoyed. But this wasn't a catcall, an anonymous animal appreciation of a female creature in the zoo that is New York City. It was an intimate, quiet appraisal, and it unsettled me. I defended myself in my head (to whom? I'm not sure): "I'm just wearing a sweatshirt and jeans, it's not like I'm asking to be noticed here." You could argue that nothing had happened, but it felt to me like something had. I climbed into the bus feeling vaguely dirty and vaguely pissed, thankful to be in the last row.
The charming but unheated roll-top buses, "the first authorized motor transportation utility in any National Park," have been in service since the mid-1930s. Cozy Pendleton wool blankets were provided to warm our laps, one for each row, but early in the ride a woman in the row ahead reached back and took my row's blanket, apparently unaware. Mid-tour, at the height of our collective chill, her husband quietly told her he thought the blanket was for my row, and she said, "No, I don't think so." "You know who thinks so?" I wanted to say. Everyone else had a warm body to lean against, at least. But taking a blanket away from someone you're spending hours with on a bus seemed like a poor social move, so I kept quiet.
If I hadn't been sick, if it had been just a little warmer, I would have thought it a perfect day to visit the park, the trees and mountains in romantic relief against clouds and fog. The driver, to his credit, was knowledgeable and adept at keeping the riders entertained on a day when there wasn't very much to see. He talked about the history of the park and about working for the National Park Service, about owning and selling a business in Indianapolis and deciding with his wife to start living nomadically because they didn't have children.
I wrapped my sweater around my legs and took pictures out the window, paying attention to the driver when his chatter caught my ear. Though fog covered many of the allegedly stunning vistas, beauty still abounded. Physically I was somewhat miserable, but my soul had no regrets.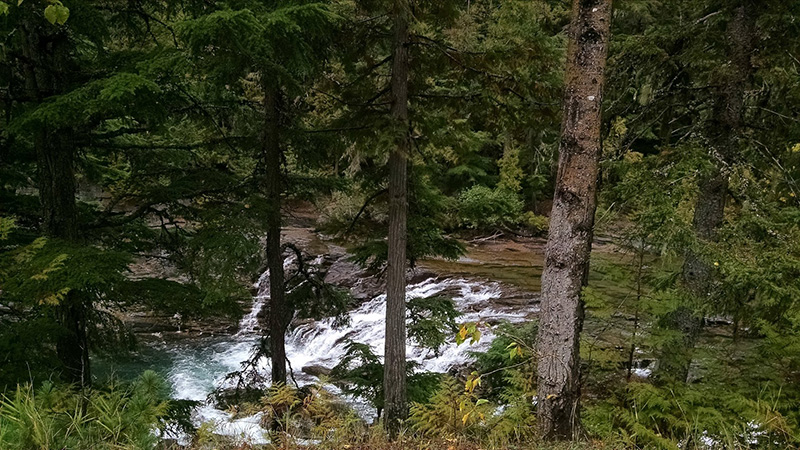 During a lull in scenery the driver asked everyone where we were from. I said New York City, and a woman said, "But you aren't actually from there," and I said, "That's right, how can you tell?" "Because of your accent." I asked her to guess where I was from. She said Vermont. A man a couple rows up said California. "Philadelphia," I said, and the woman said, "Well you don't sound like that, either."
About three hours in the sun finally broke through. It was still quite cold, but one of the riders yelled, "Let's roll the top down!" The driver, dubious, asked, "Are you sure? Who wants to roll the top down?" Many people cheered. Inwardly I said, "No no no, don't roll the goddamn top down." The couple directly in front of me (not the blanket thieves) were on my side. But everyone else voted yay. The top came down.
The rest of the drive passed, predictably, in windy discomfort. The driver stopped a couple times for everyone to get out and wander around, but eventually we all stayed on the bus, just wanting to get the tour over with.
My parking lot was the first dropoff. The driver got out to thank me and the couple. He approached me first, took my hand in both of his, looked into my eyes with seriousness and said, "Best of luck to you with everything." I watched to see whether he would be equally demonstrative with the couple. He was not. I walked back to my car with numb feet and drove to Missoula without incident.
Hotel Art of the Day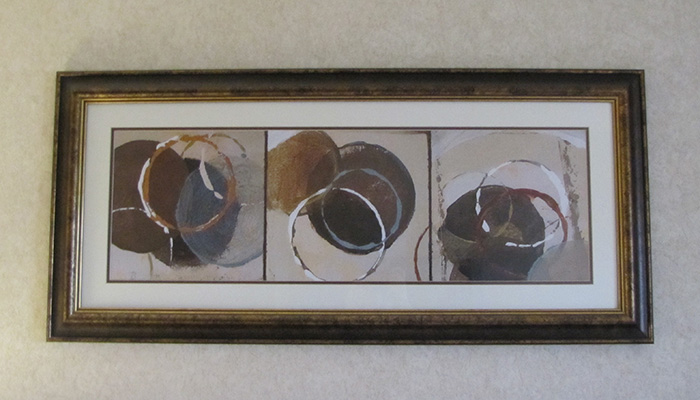 "Coffee stains"
~30″ x 10″
Digital print
C'mon Inn, Missoula, MT
Hotel Art Score
3/10. It's a bad one. This is classic hotel art: mindless abstract crap with colors that match elements of the room. This feels stale all the way down to the frame. It's remarkable how good the art has been on this trip, if you take this as the standard. I think the standard is changing.
Art Art Score
1/10.