Monday, September 7
My hotel in Milwaukee had a Starbucks, so for breakfast I got the lowest-calorie thing on the menu, an egg white feta wrap. I played a calorie guessing game while I stood in line and learned that I am terrible at it. All prepared foods should have calories listed so that I can stop gaining weight.
Becca, my closest friend from high school, got in just after noon, and we headed for Madison, where she lived for a few months after graduating from Beloit College. The drive was supposed to take just over an hour, but somehow we stretched it out to almost three, getting lost in conversation and lost on the road. It was fun.
We got there eventually, checked in to our swanky but impersonal waterfront hotel, then headed to State Street, Madison's main drag.
Madison has a nice vibe, young and collegiate, laid back and unpretentious. As we walked around (in gross, swampy heat) I kept exclaiming how nice it all seemed. It's easy to see why people decide to stay there after college.
We went for a drink at a bar close to Becca's old place, an appealingly cheesy place she'd never been to before called State Street Brats. The bartender, a friendly college woman, let us try all of the IPAs on tap, and we both went with the Ale Asylum Ballistic IPA. Another new brewery for me, this one local to Wisconsin. I also ordered cheese curds, a Wisconsin specialty, but they were fried and therefore inauthentic. I ate a whole lot of them anyway.
We sat at a cow in the bar's garden, and I just felt so happy to be there. I usually only see Becca a couple times a year, and we haven't had a real one-on-one hang since I visited her a few weeks after her son was born in 2013.
Once the rain stopped and I decided to cut myself off from fried cheese balls, we continued our walk around town in a lazy search for a place to eat dinner.
When we got to City Hall, we found dozens of homeless people camped out on its steps, a somewhat unnerving sight. It seems that the city-county committee that acts as the landlord for the city hall building permits this, maintaining that the homeless people have no other options. But many people, including the mayor, are unhappy about it.
It was Labor Day, and most restaurants were closed, so we eventually gave up the hunt and decided to eat at the hotel. Our waiter's name was Dallas. He was young but his voice sounded older. The food was adequate. The view of the water during sunset was lovely. We watched a guy trying to learn how to wakeboard and rooted him on, even though he couldn't hear us.
Then a huge spider appeared and freaked Becca out a little. I didn't get what the big deal was until he made his way over to me.
Hey, no food pictures today. Enjoy the brief break.
Hotel Art of the Day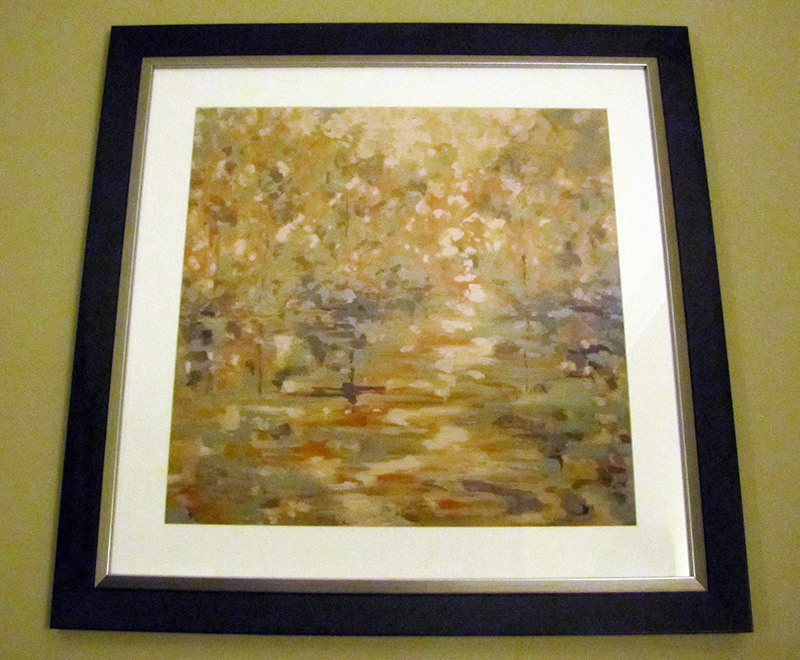 Autumnal Suggestion
Probably oil, ~30″ x 30″
Edgewater Hotel, Madison, WI
Hotel Art Score
6/10. It's not bad. I'm cool with the smudginess, and the color palette pleases me.
Art Art Score
4/10. But it's not great. There's a hollowness of soul behind it. "How can you tell, Beth?" I don't know, it's just what I feel.