Friday, September 18
Around two a.m. I woke up in a mild sweat, my throat sore. "Aw crap, here it comes," I thought. I knew I would get sick at some point on the trip. I hadn't been ill all year, so I had it coming to me. Plus it seems kind of inevitable, when you're eating all of your meals in public and touching a new set of doorknobs every day, that some new virus will find a friend in you.
And so began The Cough, a cough that has still not entirely disappeared fifty-four days later.
I fell back to sleep, waking up hours later in a sickish daze, wishing I hadn't brought most of my bags into the hotel with me. I normally stuck with just an overstuffed backpack and weekend bag, but when I stayed in a place for more than one night I often took in my larger suitcase, too, so that I could switch out dirty clothes for clean ones. I also had a bag for less frequently worn shoes like the cowboy boots. (More information about my suitcases and packing methods available upon request.) I dreaded lugging everything down the hallway, even though it wasn't a long walk, because everything is harder when you're sick.
Still, I didn't want to believe I was actually sick; maybe I'd just had a bad sleep. Maybe coffee would fix me.
The day's agenda had two items: visit Bozeman, because everyone I met in Billings told me I had to, and get Mickey's oil changed. I'd driven about 3,000 miles on the trip so far, but I'd started the trip with 1,500 on the odometer. Steve would arrive in a few days and I didn't want to deal with car maintenance during our time together.
From Billings, Bozeman is about a two-and-a-half-hour drive, a little more than halfway to Helena. Perfect timing for a lunch break, and if it was as nice as everyone said, I figured I'd find a good spot to eat.
Bozeman is nice, in a grown-up "we've got it all figured out, let's go play squash" sort of way. The buildings on the main drag share a soothing, homogeneous stateliness. The people are either very young and good-looking, or they used to be and are still in the game. (Or they're groups of older women in cardigans and pleated khakis, as you find in every tourist town.) It's interesting how quickly you can tell when a place has money (or doesn't), how you know it within the first seconds of being somewhere. I was going to say it's not in the small details, but I changed my mind. It's in the collective power of small details: the parked cars, the width and cleanliness of sidewalks, the signage, the flowerpots in windows, the mannequins in windows, the clothes people wear, the way they carry themselves, whether they're carrying shopping bags. Maybe these aren't small details but just details. Fine. That the brain can make such observations and assessments with only cursory glances is impressive.
Anyway, Bozeman feels a little like Media, Pennsylvania, where my parents live, and a little like Park Slope, (close to) where I live. Like a well-manicured, mostly wealthy, somewhat smug small town. But mainly it feels like southern California. The reasons it feels like California are hard to pinpoint; it just has that vibe. It's sunny (or was the day I was there), the buildings are low to the ground, and people working in the stores and restaurants act like they're busy and important. I kept wanting to say, "Guys, relax, we're just in Montana." (FYI, this can apply to anywhere. "Guys, relax, we're just in New York City." I'm serious. The essence of it is, "We're alive, everything's fine.")
Around two o'clock I had lunch at the bar of an incredibly packed place called Starky's (tagline: Authentic Americana), which has great ratings on every website that lets people rate restaurants. My fish tacos were mediocre, however, among my least favorite meals of the trip so far. But no prob, brah, it's all good.
Health status as of lunchtime: I was sick but still in denial. Maybe my fish tacos would have tasted better if I could taste things?
My birthday was a mere two weeks away, and I thought I might not be in a position to purchase a proper present in the future, and on my way back to the car I saw a boutique that was mentioned on Refinery29's list of best boutiques around the country, so it was meant to be.
Inside was a lady shopping for boyfriend jeans with a baby strapped to her. She tried to try on jeans, but ultimately she gave up because it was too hard with the baby. She told the saleswoman to hold a few things for her; she'd be back another day. I really hope she got those jeans because she deserved them.
Then these two really gorgeous 20-year-old girls walked in and I thought, "Wow, I am really not young anymore, I can't compete with people who look like that." I spied on them through the mirror behind the checkout counter. "But wait, could I ever? What is this competition again?"
I bought a gray turtleneck. Viva la 37!
Back in the parking garage, I called my dad to tell him how to send me money because I was running out of it, with estimated taxes and hotel bills and clients owing me many (read: MANY, like, many) thousands of dollars. He was drinking a beer and watching a movie on TCM, unwinding from a bad day at work, and it was so easy for me to picture exactly where he was and what it felt like to be where he was, and I thought about he had no way to do the same for me. I told him Bozeman was nice and that he and Mom should visit Montana. Everyone should visit Montana!
Montana Avenue, which cuts through the center of Helena, makes the city seem barren and desolate, a sad stretch of chain hotels, chain restaurants, and gas stations. But once I turned off into the neighborhood where my bed and breakfast was, my surroundings became lush and dignified. Every house looked like a place where a professor would live. The two parts of the city didn't seem to fit together; the transition was too abrupt.
After some minor communication issues I checked in to the B&B, dropped off my things, then headed out to Dave's Express Oil and Lube. I pulled into the queue at the garage. An older guy (long gray beard, friendly, missing some teeth) took down what I needed. He offered me a car wash for eight dollars. I accepted.
I ended up hanging out in the waiting room for a while because they had to get a new filter from another location. The TV was tuned to Fox News, and I thought about how people in some places must really just accept it as the default news channel. But neutral public spaces are not the place for such things. I'd feel the same way if MSNBC were on. Network TV still has a purpose and it's to be on in waiting rooms. P.S. Ben Carson is a lunatic.
The guy who was working with me (younger, very nice, missing some teeth) felt bad to be keeping me from my fun Friday night and asked if I wanted a refund on the car wash. I accepted.
On the way back to the B&B I stopped at a Walgreen's to restock on water and granola bars. I learned that they also had mini bottles of wine, so I picked up a four-pack of Woodbridge Cabernet, which is really not bad for wine sold in a drugstore.
In the room I reviewed the B&B's recommended dinner spots. A couple of them were within walking distance. But I didn't want to walk or sit in a restaurant. I just wanted to get in bed. It was seven o'clock, and I was sick. I poured myself a glass of wine, drew the shades, fetched my book, and curled up in the king bed.
Hotel Art of the Day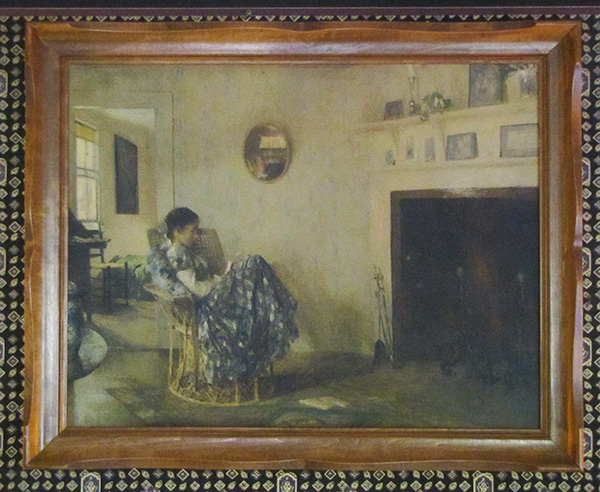 Rainy Day (1906)
Frank Weston Benson
Print (originally oil on canvas), 30″ x 25″
The Carolina Bed and Breakfast, Helena, MT
Hotel Art Score
8/10. I'm all about interiors of people reading. Bonus points for the fireplace, though the room still looks a little cold and spare. Still, it feels like a real, lived-in space. I like the lightly impressionistic brushwork. This is of the artist's daughter in their Maine summer home, in case you didn't click on the link.
Art Art Score
7.5/10. It's the real deal and it's good.