Tuesday, September 8
We had two objectives on Tuesday: authentic cheese curds and the Mall of America. Maybe you think it's dumb to want to visit a mall, or maybe you think it's great and would ask your husband to send you there for your fiftieth birthday like one of my aunts did. Or maybe you don't have an opinion. I'm not sure why I'm thinking so much about you. (Unfortunately I can't help it.) I just wanted to know what everyone is talking about when they talk about Mall of America. I found out. You'll get a couple sentences about that soon.
We headed out into the cloudy day. Mickey was gross. My one complaint about the Jetta is that it has lousy wipers, or at least a lousy spray/wiper combo. I can't get the windshield clean without going to a gas station. Anyway, I'd been hoping it would rain so that he'd get a bath, but the sky only teased rain, dropping a few drops sometimes but never really letting loose.
First stop: Carr Valley Cheese Factory. We got there at noon, but they'd already stopped cheesing for the day. We tried a bunch of samples, most notably the chocolate cheese fudge. The lady behind the counter was friendly and down to earth and made me a small bag of cheese curds. They're unusual but not foreign, because they're cheese. They squeak against your teeth but it isn't disgusting.
The drive through Wisconsin Dells was hilly and twisty and beautiful, the best of the trip so far. Becca was a good and eager interviewee, and our conversation hit most of the marks I'd laid out for us. We talked about things we didn't like about America, then struggled to come up with things we did. There was an obvious one all around us—this beautiful landscape. I don't think either of us is that hard pressed to find things to love about the country; it's just that when we start looking for things that are wrong, we end up seeing problems with everything. It can be hard to jog yourself out of that mindset.
We stopped for lunch at a restaurant in a tiny town near the cheese factory. A gathering of maybe a dozen old ladies was taking place while we were there. I thought about how most of them were probably widows; it was good that they had each other.
Mall of America is pretty much just a large mall with a theme park and aquarium in it. It's like the King of Prussia Mall (for you Philadelphians) but airier and log flumed. I bought something for my niece and we checked out Madewell.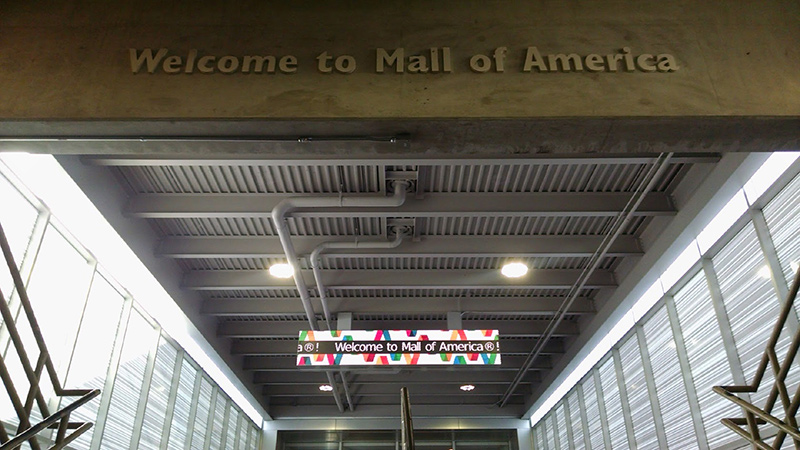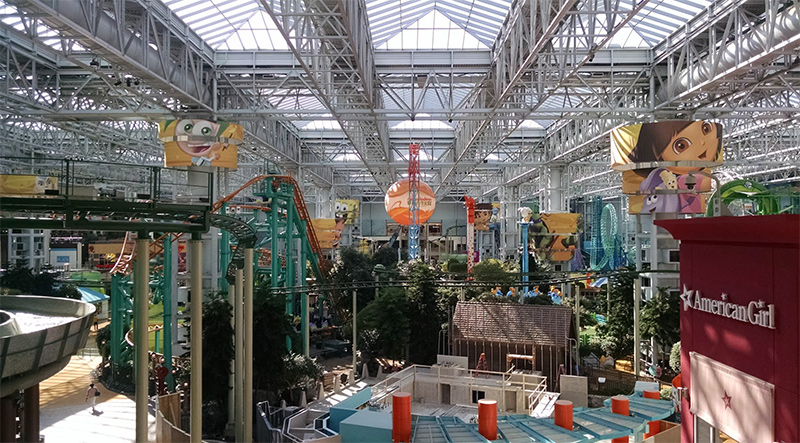 Post-mall, we checked in to our B&B, a nice historic house near Loring Park. One of the owners recommended a restaurant, and we took a happy stroll there through the park, admiring the Loring Greenway, an appealingly '70s urban apartment complex/greenery initiative. Photos to come in tomorrow's post.
The restaurant recommendation turned out to be not so great—it faced the park and served Deschutes, but otherwise underwhelmed. Our waiter, a cocky blonde college student, greeted us with, "Hello, ladies, what can I do ya for?" We speculated that we now look old enough to get flirted with ironically by twentysomethings. Kind of depressing.
Hotel Art of the Day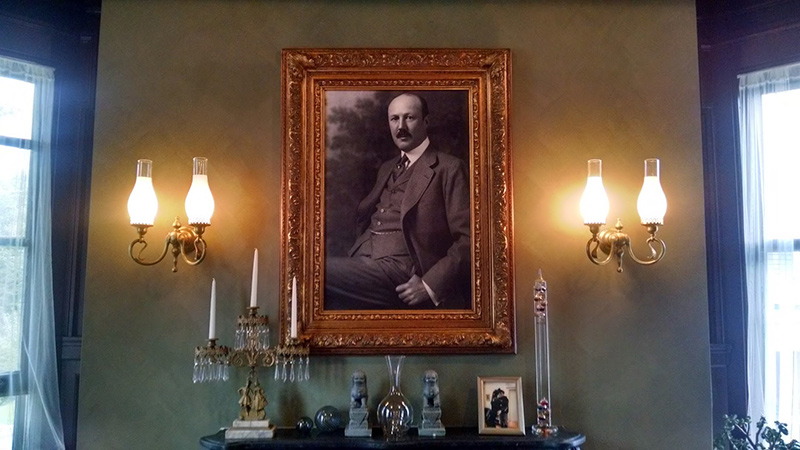 Portrait of Eugene J. Carpenter
Photograph, ~20″ x 32″
Eugene J. Carpenter House, Minneapolis
Hotel Art Score
7/10. It works well in its spot above the parlor fireplace. It's awkwardly jaunty. I like his suit.
Art Art Score
5/10. Weird framing, with his head touching the top of the image and his leg cut off at mid thigh. But I like that it's weird. And I like the shadows his clothing makes. It's nice for what it is and doesn't have grander ambitions.