Friday, September 11
Four hours after going to bed, I woke up. This happens to me often, and I've learned to be still and trust that I'll ultimately fall back to sleep. But my mind wouldn't quiet down that morning, and the second sleep never came. Around eight I got out of bed, dizzy with tiredness, telling myself I'd be fine, that eating and coffee would help. And they did, sort of. But I was not at my best.
I drove back to Maddie and Brian's place to collect Adam. He had some work to finish, so I splayed myself in a chair and tried to rest while I waited.
We headed out on the road, and Adam noted that on September 11th, 2001, exactly fourteen years ago, he had just arrived home from a post-college road trip, two months long like mine, across the country. He'd planned to spend September 11th in Phoenix, but when he got there on the evening of the 10th he suddenly felt homesick, so he drove home through the night to his parents' house in Los Angeles. When he woke up he listened groggily to a voicemail from his mother saying, "Honey, I just wanted to let you know that kamikaze terrorist planes struck the World Trade Center." His parents had just gotten a new television, and he couldn't figure out how to turn it on to see what was going on. He called his mother and burst into tears, and she decided to come home from work.
Back in Pennsylvania, I watched Peter Jennings alone in my apartment for ten hours straight. I don't think I cried until the next morning, when I woke up and the world didn't feel like the world anymore.
***
We stopped for lunch in Sauk Centre, Minnesota, birthplace of Sinclair Lewis and model for the town in his novel Main Street. Neither Adam nor I had read Main Street, so we didn't feel a need to go to his Boyhood Home and Museum.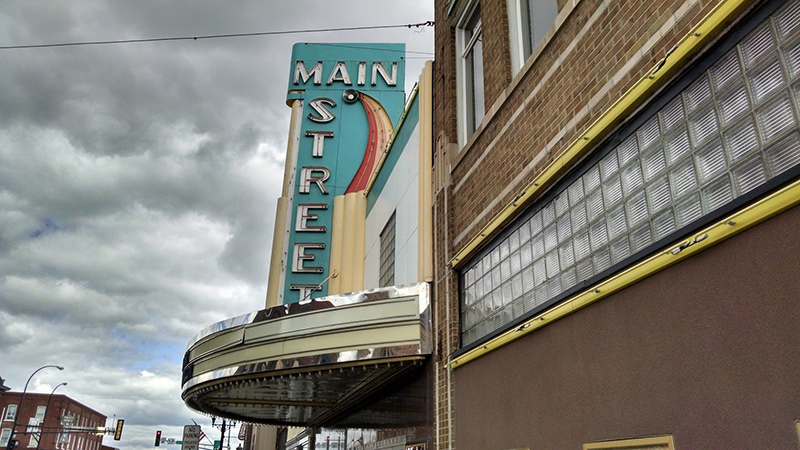 The drive wasn't particularly pretty, but it wasn't bad. We passed a giant turkey farm, a huge building so packed with turkeys that we wondered if they could move. Adam pointed out that we kept passing anti-abortion billboards, but I was too focused on getting us to Fargo safely to take notice. Eventually I saw one that said, "Adoption. I can live with that." I thought it was about infertility, and that the woman was like, "Okay, fine, I guess I can deal with adopting."
An hour or so after lunch Adam wanted a coffee, so we stopped in Wadena, Minnesota, which bore a strong resemblance to Sauk Centre, but seemed a little harder on its luck.
The Cyber Cafe opened in 2002 as a space for teens to gather, do homework, and generally be good, non-drug-using kids. It was completely empty inside, possibly because all of the teens were in school. I'd like to think that this fifteen-year-old idea still works in this town. I ordered a regular coffee and it was hazelnut flavored, which isn't my thing, but I drank most of it anyway to give myself some synthetic energy.
In addition to the Cyber Cafe, Wadena features many murals painted by local artists in an attempt to create the world's largest picture puzzle and boost tourism. While Adam called a friend to schedule a coffee date we drifted toward a prominent mural of what I like to imagine is everyone who lives in the town.
The drive took about five hours, all told, and by the end of it Adam was worn out from talking about himself, and I was worn out from being awake. We covered a lot of ground in our conversation, and Adam, as you know if you know him, speaks eloquently about everything, but I felt like I wasn't bringing enough to the table. Maybe I'll change my mind when I listen to it later.
There's no North Dakota welcome sign when you cross in from Moorhead, Minnesota, but our Airbnb hosts, an attractive, hip young couple who run the farmers market and are involved in various community-building endeavors in Fargo, made us a personalized sign: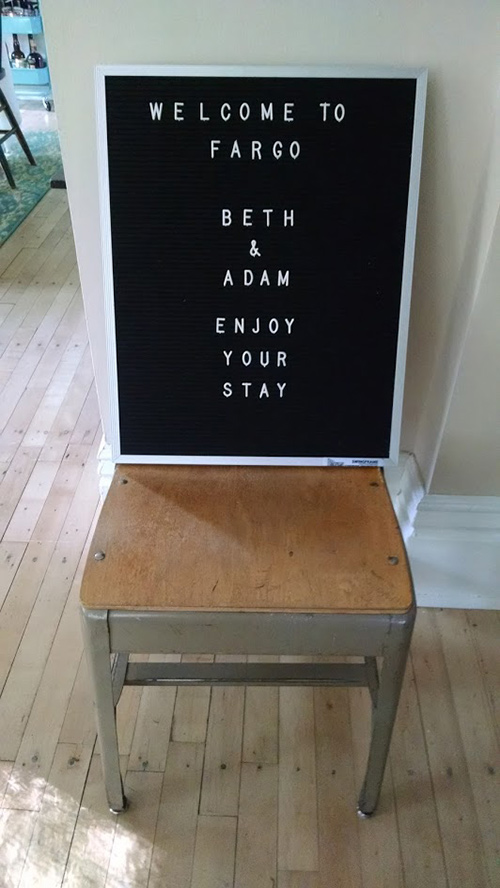 We checked in and planned to convene after a quick rest in our respective bedrooms. I eagerly peeled back the comforter on my bed to find a gang of pubic hair hanging out on the sheets. So the sheets hadn't been changed since whoever had stayed there last, and that person (I'm going with dude given the size and volume of hair, but one never knows) had enjoyed some nude lounging. I considered asking for a fresh set for about two seconds, but I was so tired that I decided to screw it. I brushed it all off with the underside of my forearm, swapped the pillow with the one from the other side of the bed, and closed my eyes for a few sweet minutes.
We got a restaurant recommendation from our host S., then wandered around downtown a bit before dinner.
Our dinner at Fargo's boutique hotel was good—I forgot to take pictures—and more importantly, the alcohol perked me up a bit. After we ate we went hunting for a good bar to round out the night.
Adam chose the Empire Tavern because it looked lively. We sat at the bar and ordered beers, and almost immediately, the guy sitting next to Adam said, "Get ready, I'm about to start talking to you guys." I asked him if I could record him, and he said no. This would soon change. The guy, Nik, is an original, a small-town kid who's rejected his Christian upbringing and formed a philosophy of life from the pieces of TV and internet culture that resonate with him. He told us he's moving to Japan to study to be a samurai. He beatboxed, fairly impressively, about a local football team in the voice of Kermit the Frog. We spent the rest of the night with Nik and his friends, who'd all met each other at the Empire.
Some representative quotes (all from Nik and co.):
"Whenever you see someone sneeze, don't say 'God bless you,' say, 'Nothing happens when you die.'"
"Here's my new theory on what the world is: You know how a cell works, right? What if planet Earth is a cell, and we're like the things that make up that cell, and everything we do has a purpose, and we drink beer, and what if that's our destiny, is that we drink beer, and we have to dispose of it and it causes chemical reactions. What if we're just the insides of a cell and then the planet Earth is one cell of a giant being, and the Universe is one being?"
"That scene in the movie just makes me cringe because I know what a parsec is."
"I wanna write a new phone app, I got an idea for like a clean bathroom—you can rate bathrooms, and you can shit-talk people there and rate bathrooms."
"Let's get Blizzy Blasters."
Pretty standard drunken conversation, sure, but a thread of magic ran through the night, and I came away from it convinced that Fargo is a special place.
Hotel Art of the Day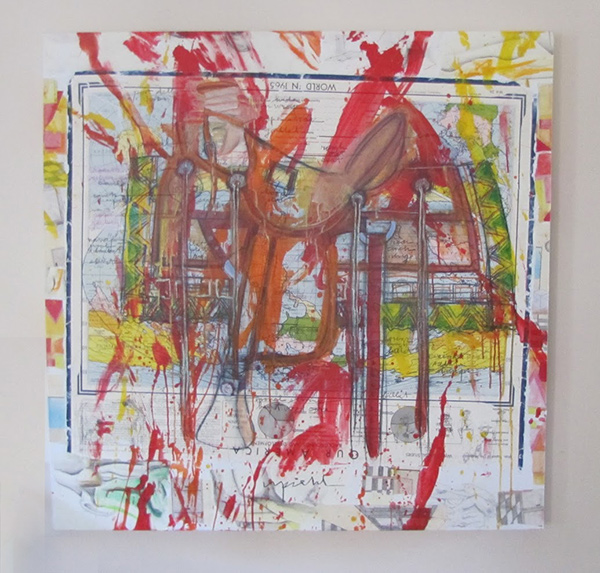 Contemporary abstract
Mixed media, ~48″ x 48″
Dining room, Fargo, ND
Hotel Art Score
7/10. I don't really know what's going on with this, but it's energetic and colorful and bright. So, fine.
Art Art Score
5/10. With my power to zoom and rotate I've determined that the background seems to be from an atlas, or from a school map from 1965. The heading (reversed and upside down) reads, OUR AMERICA: BACKGROUND AND DEVELOPMENT. So, relevant to my project, it seems. But I think I'd have to sit with it a while to make it mean something to me.