Wednesday, September 3
There is no photographic evidence of the lovely breakfast at the Glidden House. I was too groggy. But the food was better than most free spreads, sort of like a buffet for wedding guests the day after the celebration. The parlor where we ate was cozy and dark. The orange juice was fresh, or maybe just seemed like it was.
We left at 11 and made our way to the Cleveland Museum of Art, just around the corner from the hotel.
It's a great museum—not large, but not too small, and it presents its collection thoughtfully. I had slept badly the night before, stressed out about work and the prospect of failing to accomplish anything for myself on the trip, and was pretty out of it. It was restorative to move around among art in a calm space. I told myself I didn't have to learn anything about anything.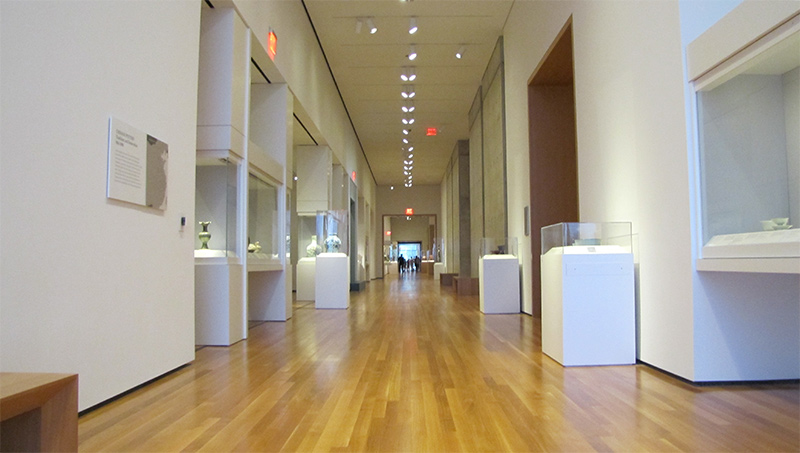 I didn't realize we were allowed to photograph the art until midway through the visit. So I only have a few shots. But who likes looking at photographs of museum art, anyway? Still, a couple:
Andy and I noticed that museum employees—in particular the guards and cafe staff—seemed more educated than what we usually encounter in museums. The guards said hello to me as I entered rooms, and in one room I saw a guard explaining a piece of art excitedly to a visitor. This is not how it generally goes, in my experience, and I wondered about whether they could be satisfied in a job that most people view as menial. It's an extra hurdle for them to overcome the impression visitors have.
Likewise, the cafe is decidedly upscale for a takeout spot, with an open kitchen and bar, full of professional-seeming chefs preparing sandwiches and Asian noodles. When we ordered lunch, I asked for an extra plate from our server, whose job was mainly to put prepared sandwiches into an oven and take them out a few minutes later. She said, "Sure. And you can have my job, too, if you want it." We laughed in surprise and told her to take care.
We conjectured that she was a trained chef and had somehow ended up doing work she considered to be beneath her. I debated going back to interview her, but she was busy and I wasn't sure that my first interview attempt should be with a disgruntled person.
Before we left Cleveland we decided to visit Ralphie's house from A Christmas Story, because why not:
We did not take the tour. But we did go to the Christmas Story store across the street. It seemed like it would be the size of a small shed, but it actually took up a floor of an entire house. We were a little dumbstruck by the scale and sheer existence of it. Full-sized leg lamps were on sale for $209.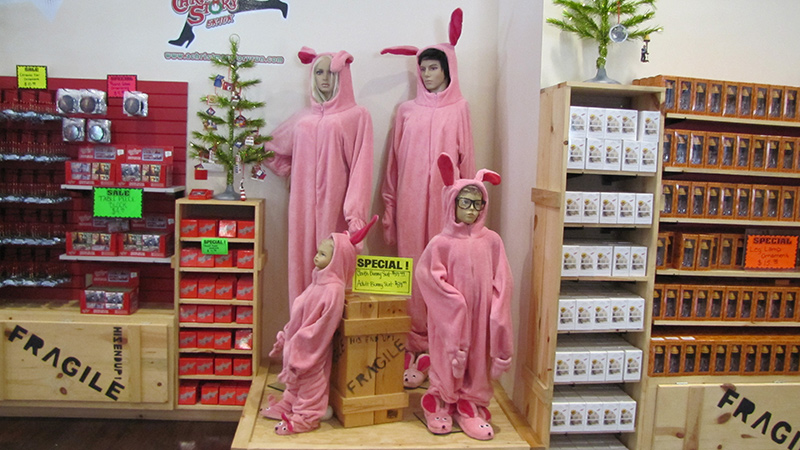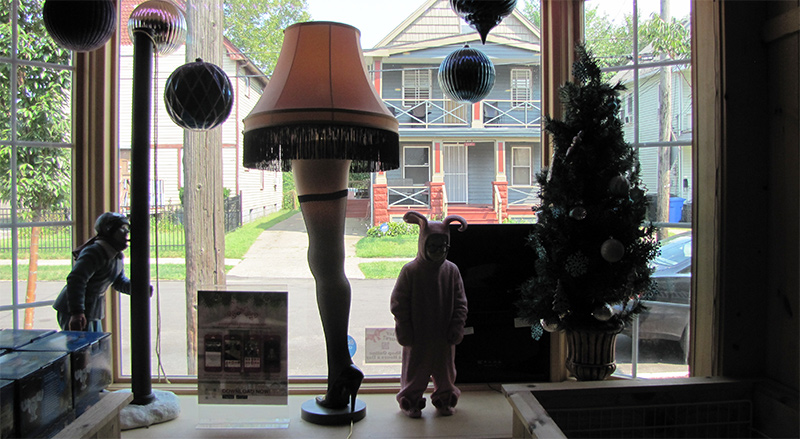 From Ralphie's we headed to Toledo. There are probably things worth seeing in Toledo, but I had earmarked it for catching up with work and the blog and various other trip-related tasks. We settled into our Hampton Inn and had a quick dinner at Carmine's Pizza, located in a mostly deserted strip mall.
Back at the room, I spent an hour trying to get a splash page to work in Drupal 6. So much of my life is about things like that. Part of the reason I'm doing this is to remind myself that there's more.
Hotel Art of the Day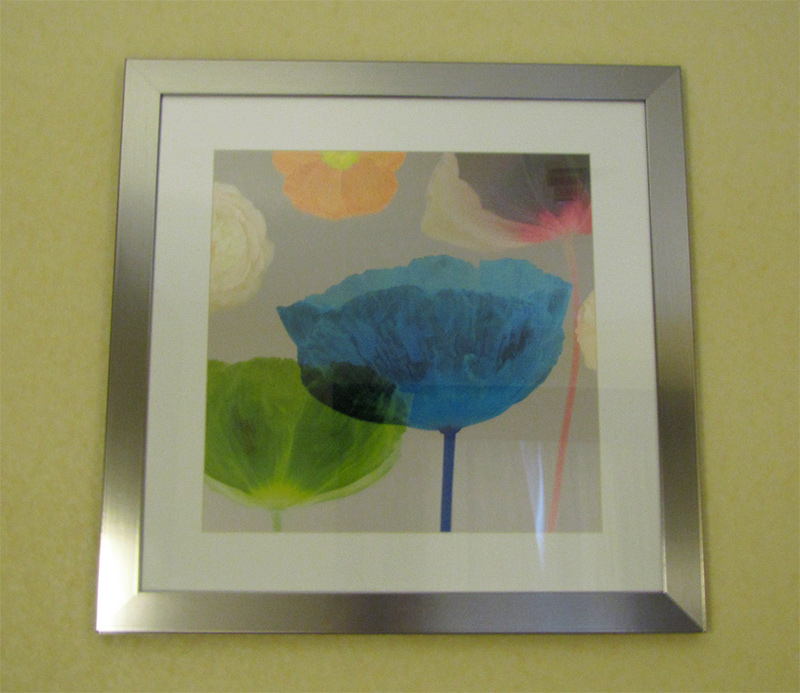 Flowers
~20″ x 20″
(I'm unclear on the medium)
Hampton Inn, Toledo, OH
Hotel Art Score
6.5/10. At first glance I would not have guessed that I would feel this favorably. But I do. It looks like a painting of flowers made out of tissue paper and pressed flat over each other. It's simple and unpretentious.
Art Art Score
4/10. It's more design than art, but it's fresh and I think there is some spirit behind it.